CHOCOLATE CAKE.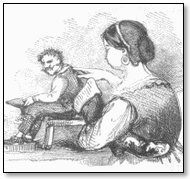 Would You Like a Chocolate Cake?
This is one of many old fashioned recipes for chocolate cake, from back in the good old days when cakes did not come from prepackaged mixes.
2 cups of sugar. 4 table-spoonfuls butter, rubbed in with the sugar. 4 eggs, whites and yolks beaten separately. 1 cup sweet milk. 3 heaping cups of flour. 1 teaspoonful of cream tartar, sifted into flour. 1/2 teaspoonful soda, melted in hot water. Bake in jelly cake tins.
Filling.
Whites of two eggs, beaten to a froth. 1 cup of powdered sugar. 1/4 pound grated chocolate, wet in 1 table-spoonful cream. 1 teaspoonful vanilla.
Beat the sugar into the whipped whites; then the chocolate. Whisk all together hard for three minutes before adding the vanilla. Let the cake get quite cold before you spread it. Reserve a little of the mixture for the top, and beat more sugar into this to form a firm icing.
How to Make Molten Chocolate Cake
A really good explanation of how to make this delicious dessert. Perfect for a Valentine's Day dinner.