Chocolate and Fig Layer Cake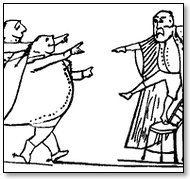 Make Us a Chocolate Fig Cake!
Beat about four ounces of butter to a cream, adding gradually one cup of granulated sugar; also the well beaten yolks of three eggs, and one-half cup of milk; beat all thoroughly, and add one and three-fourths cups of sifted flour, one-half teaspoon vanilla, and one ounce of melted chocolate. Put the chocolate over boiling water in a cup, and when melted, add it to the cake, and beat thoroughly until the whole is thoroughly mixed and smooth. Now stir in the well beaten whites of the eggs, and one heaping teaspoon of Crescent baking powder. Bake in three jelly cake pans. Bake in quick oven for about twelve minutes. While these are baking prepare the filling: Put one ounce of chocolate, two teaspoons granulated sugar, one-half teaspoon vanilla, and two teaspoons water over the fire to melt. Stir constantly. Beat the whites of two eggs to a stiff froth; add the mixture gradually to the whites of the eggs. Beat continuously for ten minutes. Stand aside until cold. Chop six good sized figs rather fine. Add this to the mixture. When cake is cold, divide the filling into two parts, and spread between the layers.
How to Make Chocolate Cake Without Flour
If you are allergic to flour it can be difficult to find a chocolate cake that you can enjoy. This video explains how you can make a chocolate cake without any flour.