Love Cake.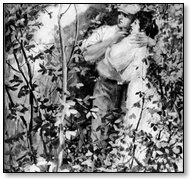 If You Love Me You Will Bake Me A Chocolate Cake
Take 11/2 pounds of flour for a puff paste or cream paste, of this make 3 cakes, spread with butter, sugar, cinnamon and bake to a golden brown.
After they are cold spread over the first cake a thick wine cream, over the second a raspberry or currant jelly, and then put one on the other, and on the following day trim the outer edge smooth with a sharp knife, cover the cake with any icing desired, such as chocolate or sugar and lemon juice, and decorate with preserved fruits.
Decadent Chocolate Cake Recipe
A decadent chocolate cake, so good it's worth the calories.