Potato Cake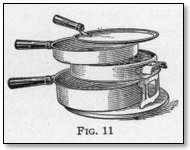 Chocolate Potato Cake Recipe
One cup butter, two cups sugar, one-half cup milk, one-half cup chocolate, one-half cup walnuts (chopped), two cups sifted flour, two teaspoons Crescent baking powder, four eggs, one cup mashed potatoes, one teaspoon cloves, one teaspoon cinnamon, a little nutmeg. Bake slowly for one hour.
Award Winning Chocolate Cake
This is a step by step guide on how to make Chocolate California Gold Rush Cake that has won many awards.