Chocolate Cake.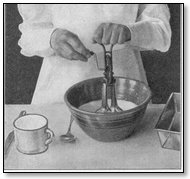 Chocolate Cake Recipe
One of the things that always strike me about these recipes for home made chocolate cake is how simple the ingredients are. Nowadays most recipe book require a ton of ingredients and of course store-bought cakes always have unpronounceable chemical ingredients and preservatives. Try one of these old fashioned cake recipes and get back to basics.
3 tablespoons butter. 1/2 cup sugar. 1 egg. 1/2 cup milk. 1 1/3 cups flour. 2 teaspoons baking powder. 1 square chocolate melted. 1/2 teaspoon vanilla.
Cream the butter, add one-half sugar, egg well beaten, and remaining sugar. Mix and sift flour and baking powder, add alternately with milk to first mixture. Then add chocolate and vanilla. Bake thirty minutes in a shallow pan.
How to Make Chocolate Cake
An instructional video on how to make a delicious chocolate mud cake.