Spanish Chocolate Cake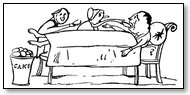 Recipe for Spanish Chocolate Cake
Dissolve on the back of the stove half a cup of grated unsweetened chocolate, one-fourth of a cup of granulated sugar and two tablespoons of milk.
Beat to a cream one-third of a cup of butter and a cup of powdered sugar; add two eggs, one at a time, beating well, and half a teaspoon of vanilla; next add the dissolved mixture and beat thoroughly; now add gradually one-fourth of a cup of milk, a cup of flour and a teaspoon of baking powder, the baking powder mixed with a little of the flour and added last. Bake in an oblong sheet about three-quarters of an inch thick.
Place an ounce of unsweetened chocolate in a small teacup, and stand this in a pan containing boiling water, to melt it. Boil together until it forms a soft ball when dropped in cold water, a cup of granulated sugar and five tablespoons of milk; take from the fire, add vanilla to flavor and beat until white, yet soft and creamy; spread smoothly on the cake at once, while the cake is yet warm; then coat immediately with the melted chocolate, using preferably a soft pastry brush, although a knife will serve the purpose. Cut the cake in squares or diamonds and serve the same day it is made. This is a very choice recipe, making an elegant cake.--Amelia Sulzbacher.
Demonstration of How to Make a Chocolate Cake
This is a nice step by step video guide on how you can make a chocolate cake, using just a few simple ingredients.